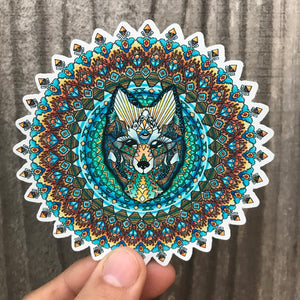 Wolf Mandala Sticker
A reproduction of my original painting "Journey to The Top". Weatherproof decal will look great on your laptop, water bottle, bumper or journal.
Symbolism:
"Wolf"
Intuition
Intelligence
Independence
Communication
The Wolf is a symbol of intuition and connection to our instincts. It brings forth intelligence, appetite for freedom and awareness of the importance of social connections.
This design represents the leader of the pack who is staying present on his journey to the top of the mountain, guided by sense of freedom and instinct.