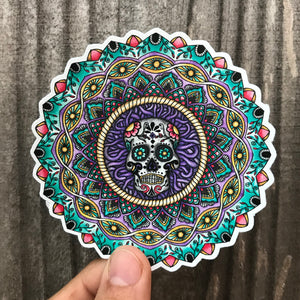 Muertos Mandala Sticker
A reproduction of my original painting "Muertos". Weatherproof decal will look great on your laptop, water bottle, bumper or journal.
Symbolism:
Death
Transformation
Roots
Ancestors
Spirits
This piece was started in South America after visiting all of Central America. It's inspired by the Mexican holiday called Dias de los Muertos or The Day of the Dead. This holiday focuses on gatherings of family and friends to pray for and remember friends and family members who have died, and help support their spiritual journey. 
Death can be scary. At the same time it is the best teacher for us to value what is truly important. This sugar skull is connecting us to the wisdom of our ancestors and taking us through the journey of death and rebirth - a total transformation.