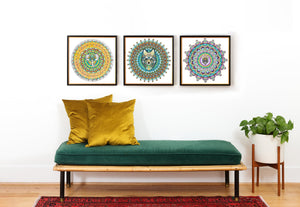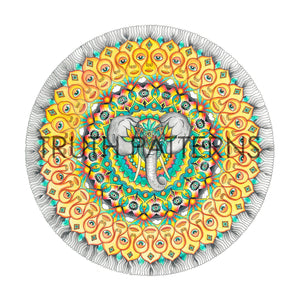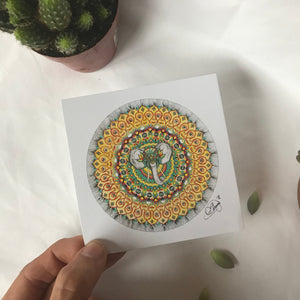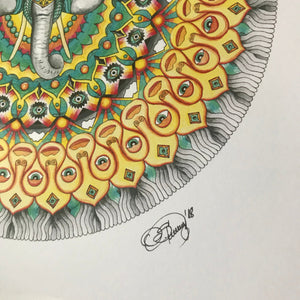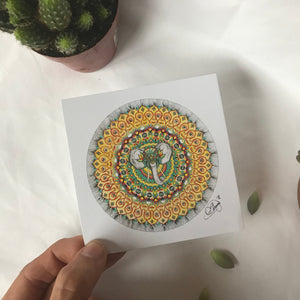 Elephant Watercolor Mandala Print
High Quality fine art prints of Elephant Mandala painted by me.
Name of the original painting: The New Beginning", 2017 watercolor on cold press cotton paper.
Elephant speaks to us in terms of sensitivity, loyalty and determination. The elephant is a superior guide when we are on a journey that requires our patience and devotion. Symbolic elephant meaning deals primarily with strength, honor, stability and tenacity, among other attributes. To the Hindu way of thought, the elephant is found in the form of Ganesha who is the god of luck, fortune, protection and is a blessing upon all new projects. In Christian symbolism the elephant is an icon of temperance, patience, and chastity. The Mandala around the elephant symbolizes community or tribe, advanced sensitivity, social and spiritual connection. Mountains serve as a symbol of obstacles in life as well as spiritual or mental "rising" or improvement. The sunsets indicate the completion of a cycle in ones life before the new beginning. Orange and green gemstones serve as energy reservoirs and protectors.
This mandala reflects:
· Fortune
· Blessings for new beginnings
· Strength
· Patience
· Community
You can choose different size prints: 4x4; 8x8 and 12x12 inches.